To celebrate the changing of an age, the beginning of the new age I decided to group together some of my flash fictions, short stories and poems about worlds changing, rearranging, ending and beginning. It is a dark, twisted collection with a remnant of hope within. It is by no means my entire collection of these works as there simply was not time to collate them all!
The collection stands at novella size and I may do an extended version later on.
It is grown ups only I am afraid.
Free at the moment especially for the Mayan prediction of a change of the ages

Just click the title below for a PDF. It is dedicated to friends that left this world too soon.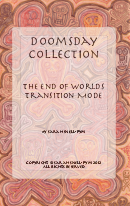 I hope you enjoy it.
Posted: Thursday, December 20th, 2012 @ 10:13 am
Categories: Doomsday.
Subscribe to the comments feed if you like. You can leave a response, or trackback from your own site.